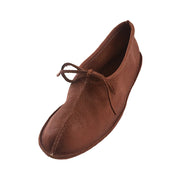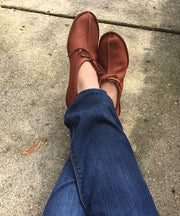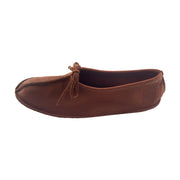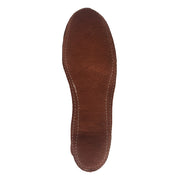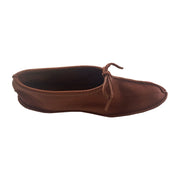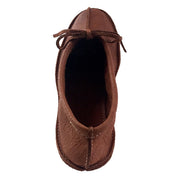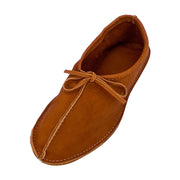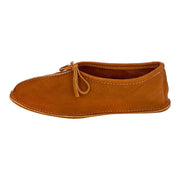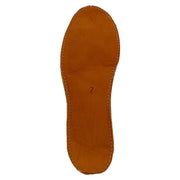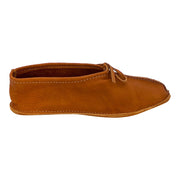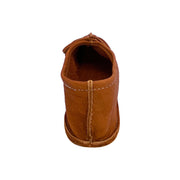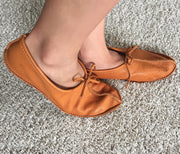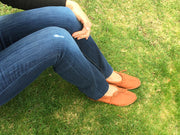 Women's Buffalo Ballet Moccasin Slippers
These women's ballerina style moccasin slippers are great for ladies who want to have the feeling of walking barefoot but still protecting their feet with real traditional soft and durable leather. They are handmade from genuine buffalo leather and come in a Tobacco and Saddle Tan color. These ladies traditional Native American made ballet moccasin slippers have a double layer soft buffalo sole and have no insoles or synthetic materials, perfect for Earthing. Please note, these moccasins are "indoor" moccasins however they can be used outdoors for Earthing, but only on soft surfaces such as grass. Do not use in rain or snow.

These ladies real leather ballet moccasin slippers have a suede trim and a decorative rawhide suede laces. These women's moccasin slippers are made by a Native American company called Bastien Industries. They represent the Huron Wendat First Nation Aboriginals and express themselves through local products focused both on comfort and style. These women's traditional moccasins come in women's size 4-10. These ladies moccasin slippers fit large. These moccasins do not come in half sizes. If you wear a half size, go down 1 and a half size. (8 ½ order size 7) When you first put on a pair of moccasins, they should fit snugly as the genuine leather will stretch. Treat your feet to a pair of the best most comfortable ballet style moccasin slippers today!
| | |
| --- | --- |
| SKU | 6117, 6112 |
| Material | Genuine Buffalo Leather |
| Manufacturing | Made In Canada by Bastien Industries |
| Sole | Double Soft Sole - No Insoles |
| Size | Available In Size 5-10 |
| Color | Tobacco, Saddle Tan |
| Lining | Suede & Leather |
| Use | Indoor & Outdoor for Earthing |
| Vamp | Hand-Stitched |
| Accents | Rawhide Laces & Suede Trim |