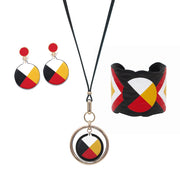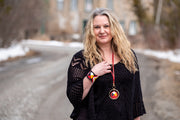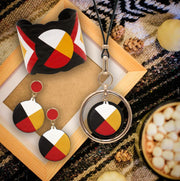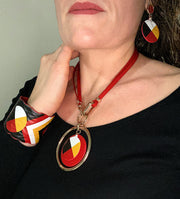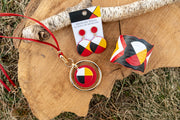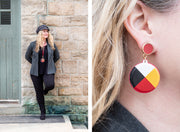 Medicine Wheel Jewelry Set Vegan Leather
This beautiful jewelry set is designed with the Medicine Wheel theme. Please enjoy our blog post about this medicine wheel jewelry set "Make a Statement". It includes earrings, a necklace, and bracelet crafted from high quality vegan leather. The bracelet is adjustable, and the necklace can be worn one of two ways; full length, or in half. The earrings have post and back style for the closure.
SKU
5703
Manufacturing
Designed In Canada by Oscardo
Size
Bracelet - 5cm wide (adjustable)
Necklace - Strap: 91cm
Pendant - 6.5cm
Earrings - 3.5cm x 5.5cm
Color
White, Yellow, Red, Black
Material
Vegan Leather
*Medicine wheels represent the alignment and continuous interaction of the physical, emotional, mental, and spiritual realities. The circle shape represents the interconnectivity of all aspects of one's being, including the connection with the natural world. Medicine wheels are frequently believed to be the circle of awareness of the individual self; the circle of knowledge that provides the power we each have over our own lives.

**The Medicine Wheel, sometimes known as the Sacred Hoop, has been used by generations of various Native American tribes for health and healing. It embodies the Four Directions, as well as Father Sky, Mother Earth, and Spirit Tree—all of which symbolize dimensions of health and the cycles of life. The Medicine Wheel can take many different forms. It can be an artwork such as artifact or painting, or it can be a physical construction on the land. Hundreds or even thousands of Medicine Wheels have been built on Native lands in North America over the last several centuries. Movement in the Medicine Wheel and in Native American ceremonies is circular, and typically in a clockwise, or "sun-wise" direction. This helps to align with the forces of Nature, such as gravity and the rising and setting of the Sun.


References:
*https://www.ictinc.ca/blog/what-is-an-indigenous-medicine-wheel
**https://www.nlm.nih.gov/nativevoices/exhibition/healing-ways/medicine-ways/medicine-wheel.html