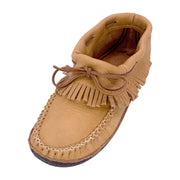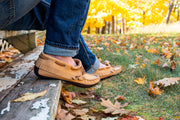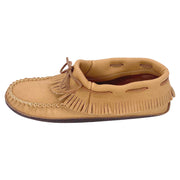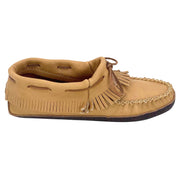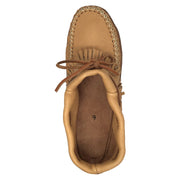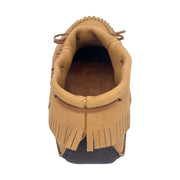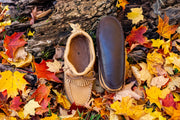 Men's Fringed Moose Hide Earthing Moccasins
These men's moccasins offer traditional style and luxurious comfort, while keeping you grounded and connected to the Earth. Please enjoy our blog featuring these moccasins "In Step with Nature". They have a more durable, extremely thick and tough oil tan chromexcel sole which makes them more durable than most soft sole moccasins. They have been custom manufactured specifically for men who would like to practice Earthing and get real leather moccasins that will last a long time. These men's moccasins for Earthing are Native American handmade with no synthetic insoles, only genuine moose hide leather making them ideal for the grounding connection. Some of the features on these men's real leather ankle moccasins include a stylish fold over fringe, the rawhide laces and the double hand-stitched vamp. They are Canadian handmade / sewn and come in a maple tan color. Not only are they high-quality moccasins they are authentic Native American handmade in Canada by Bastien Industries. We carry men's sizes 7-14. We recommend you order the same as your shoe size. If you wear a half size order down to the nearest full size. (size 10½ order a size 10) Please note, soft sole moccasins that have been misused outdoors (worn on rough surfaces such as concrete and cement) cannot be returned. Please preserve your moccasins by avoiding these types of surfaces.
| | |
| --- | --- |
| SKU | BB4685M |
| Material | Genuine Moose Hide Leather |
| Manufacturing | Made In Canada by Bastien Industries |
| Sole | Double Soft Sole - No Foam Insole |
| Sole | Added Chromexcel Sole for Durability |
| Size | Available In Size 7-14 |
| Color | Maple Tan |
| Lining | Suede |
| Use | Indoor & Outdoor |
| Vamp | Hand-Stitched |
| Accents | Rawhide Laces & Fold Over Fringe |
*Moose is a wild animal, so therefore incurs wounds and scarring during its lifetime. These scars and marks can show up in the leather as what may appear to be imperfections, but in fact are unique to each pair of moccasins. They are part of the animal's story-line. Please enjoy our blog explaining the uniqueness of rich full-grain wild leather "Wild & Free".