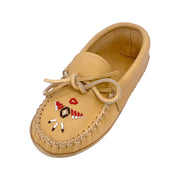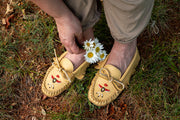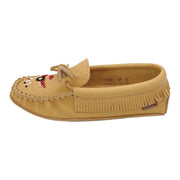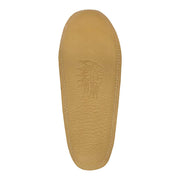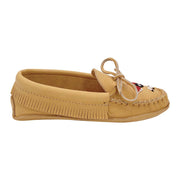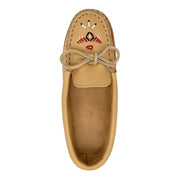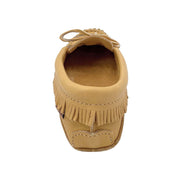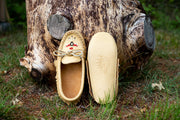 Women's Fringed Moose Hide Leather Earthing Moccasins
These moccasins made specifically for earthing, are luxuriously comfortable and extremely stylish. Please enjoy our blog article featuring these moccasins "He Said, She Said". They have double leather soles with NO foam or synthetic material in-between the leather. This allows them to be conductive and grants access to the electrons to flow through into your feet. These women's Native American style moccasin shoes have many fashionable features. This includes the stylish fringe around the foot-bed and the thunder bird hand-beaded design on the vamp. These women's moccasins great for grounding are handmade in Canada from genuine moose hide leather in a nice natural tan color. Moose hide is a quality leather that is butter soft yet durable. It will feel like a second skin. This makes these ladies moccasins a great option for anyone who likes the barefoot feeling and wants to use them indoors as a house shoe or slipper. As these aboriginal style moccasins have a double leather soles it is important to note that you should use them on soft natural terrains when earthing.
Other features noted in these women's Native style moccasins is the hand-stitched vamp and the suede interior. The suede will comfortable against your bare skin. They have rawhide laces that go through the back perfect for tightening. These moccasins come in ladies sizes 4-10. These ladies moccasins are easy to slip on and off and fit large. Order one full size down. For half sizes, go down one and a half sizes down.
| | |
| --- | --- |
| SKU | BB7574L |
| Material | Genuine Moose Hide Leather |
| Manufacturing | Made In Canada by Laurentian Chief |
| Sole | Double Soft Sole - No Foam Insole |
| Size | Available In Size 7-13 |
| Color | Natural Tan |
| Lining | Suede |
| Use | Indoor |
| Vamp | Double Hand-Stitched |
| Accents | Raw Hide Laces |
| Accents | Stylish Fringe & Beaded Vamp |
*Moose is a wild animal, so therefore incurs wounds and scarring during its lifetime. These scars and marks can show up in the leather as what may appear to be imperfections, but in fact are unique to each pair of moccasins. They are part of the animal's storyline. Please enjoy our blog explaining the uniqueness of rich full-grain wild leather "Wild & Free".