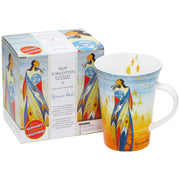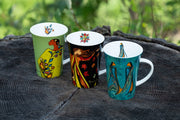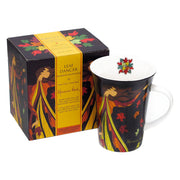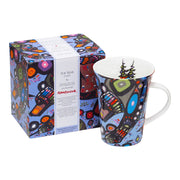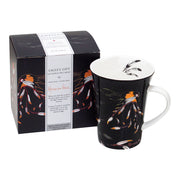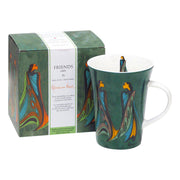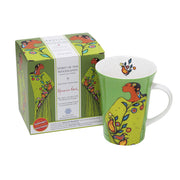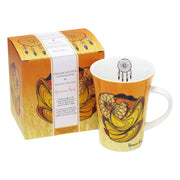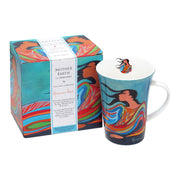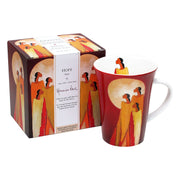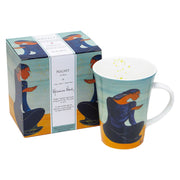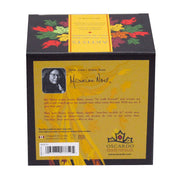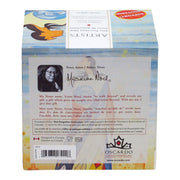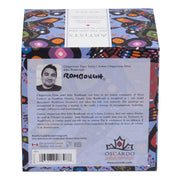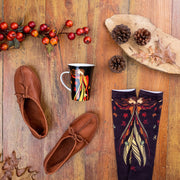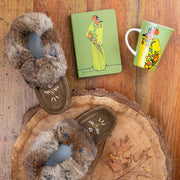 Native Art Porcelain Mug
These beautiful porcelain mugs have been designed by Native Artists. Enjoy your favorite drink with the soothing art of one of Canada's most prestigious Native American artists. The pattern on each mug is from a painting and each painting has a different meaning. Each fine porcelain mug comes with a specially designed box that features the artwork and its descriptions. They stack up nicely and make a spectacular presentation. Microwave and dishwasher safe.
| | |
| --- | --- |
| Manufacturing | Designed In Canada by Native American Artists |
| Color | Variety of Colors & Artwork |
| Washing | Dishwasher Safe |
| Quantity | 1 Mug |
Ioyan Mani - "to walk beyond" - is Maxine's Sioux name that reveals her gift. Maxine is Oglala Sioux, born on the Birdtail Reservation in Manitoba. The eldest of eleven children, she learned to draw among a loving family on a quiet reserve. In residential school she experienced the struggles of submersion of the native spirituality and culture, which brought her strength and enrichment. Maxine was appointed in 2019 as a member of the Order of Canada for her work as a visual artist and for encouraging and promoting creative expression in Indigenous communities.

A self-taught artist, Maxine is skilled in many media. She seeks through the use of fluid images, flowing lines and subtle colours, to present essential characteristics of the Native people: their sensibilities, generosity and loving nature. Maxine has received honours and accolades for her work with Native cultures, and she speaks around the country on art and on social issues, assisting in bridging the gap between Native and non-Native, young and old.

Maxine was a recipient of the Order of Canada in 2019 for her notable achievements.
Chipewyan Dene artist John Rombough was born in the remote community of Sioux Lookout in Northern Ontario, Canada. At the age of three, John was adopted by Carol and Lyall Rombough, a Prince Edward Island couple. He attributes his early interest in drawing and painting to being raised in their giving and artistic environment.

John is a self-taught contemporary woodland painter. He uses strong supporting black lines and vibrant colours. His main mentors are artists such as Ojibwe Norval Morrisseau, the grandfather of contemporary woodland style, and those from the 'Native Group of Seven'.

John Rombough's painting style has since changed to reflect the harmony of the Dene people with the natural world. His distinctive modern aboriginal designs encompass his own personal visions and strong connection with nature. John's paintings communicate to all nations through visual interpretation and brilliantly mixed colours. His art sends the message of compassion and respect.

John Rombough is recognized as a role model throughout Northwest Territories and takes his role very seriously. His paintings are instrumental in conveying a message to the youth, a message of encouragement, leadership, strength, will power, and determination. New cultural discoveries continue to provide him with an inexhaustible reservoir of ideas to put to canvas.