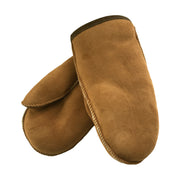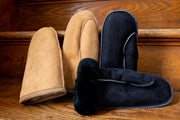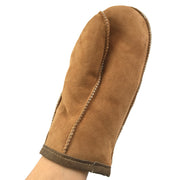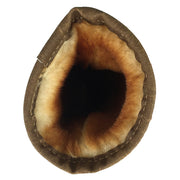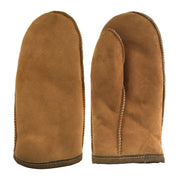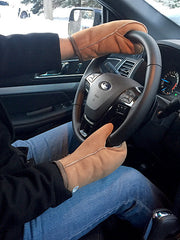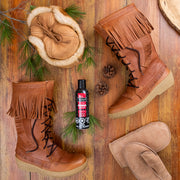 Men's Sheepskin Mittens
These men's 100% real/natural plush sheepskin mittens will feel like toasters on your hands. They are entirely lined and insulated with thick and woolly genuine shearling. There are many attributes that make sheepskin so warm and comfortable. The crimp of the sheep's wool creates insulating air spaces which naturally retain body heat. This keep you hands and fingers nice and warm and toasty. Sheepskin is also water repellent and naturally whisks moisture away so your hands will not get too hold or too cold. Real sheepskin shearling mittens are extremely durable. They feature a brown leather trim around the opening of the mittens.

The exterior of the men's mitts is the reversed suede side of the sheepskin which will protect you from wind and water. The suede is naturally water resistant but we also recommend that you spray them with a leather protector. We carry men's sizes small, medium, large and xx-large and they are also available in Black. Please visit our sizing tab to view exact measurements. These men's genuine sheepskin mittens are made in Canada. They will provide you with unparalleled warmth and comfort whether you are walking, driving, or wherever you're going this season.
| | |
| --- | --- |
| SKU | M-1012 |
| Material | Genuine Sheepskin |
| Manufacturing | Made In Canada by Lambskin Specialties |
| Size | Available In Size Small - XX-Large |
| Color | Natural Tan |
| Lining | Plush Real Shearling Wool Insulation |
| Exterior | Genuine Suede Leather |
| Use | Outdoor |
| Accents | Leather Trim |
Genuine sheepskin and suede should fit snugly at first as it will stretch and mold to your hands for a comfortable fit. The length should always feel right. Click here for washing instructions.


| | |
| --- | --- |
| Small | |
| Inner Thumb Length | 3" |
| Width Across Hand | 4.25" |
| Length from Tip of Finger to Wrist | 7" |
| | |
| Medium | |
| Inner Thumb Length | 3.5" |
| Width Across Hand | 4.5" |
| Length from Tip of Finger to Wrist | 7.5" |
| | |
| Large | |
| Inner Thumb Length | 3.5" |
| Width Across Hand | 5" |
| Length from Tip of Finger to Wrist | 8" |
| | |
| X-Large | |
| Inner Thumb Length | 3.75" |
| Width Across Hand | 5" |
| Length from Tip of Finger to Wrist | 8.5" |