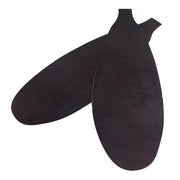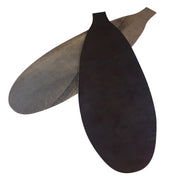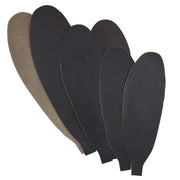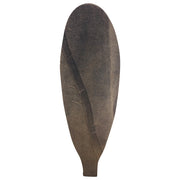 Replacement Leather Soles
These replacement Chromexcel leather soles are perfect for freshening up your favorite pair of moccasins. Sometimes moccasins still look great on top, but have a hole in the sole due to extensive wear and tear. These replacement genuine leather soles will fix your problem. Order the size you need and take them to your local cobbler/shoe repair store and they can stitch or glue the replacement soles back on, renewing the moccasins you can't part with.

These particular leather soles are made with heavy oil-tan leather which is thicker and more durable, and will make your moccasins last you many more years. These Chromexcel soles are tanned using time honored techniques and formulas that were developed nearly 100 years ago. Chromexcel is still produced in the United States using a bark retannage from a proprietary recipe, and then genuine hot stuffed with a secret blend of natural oils and greases. Modern Chromexcel carries on a long history of superior comfort and durability.
SKU
555
Manufacturing
Bastien Industries
Size
Ladies 5-10 / Men's 7-13
Quantity
2 Soles Per Package / 1 Pair
Color
Dark Brown
Type
Replacement Sole
Use
Bottom of Moccasin Slipper