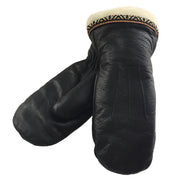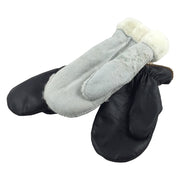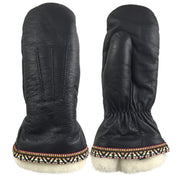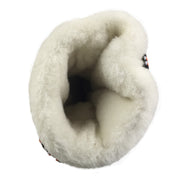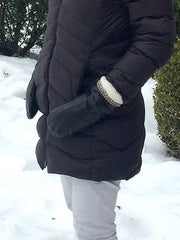 Women's Sheepskin Mittens (Final Clearance - Size Small & Medium ONLY)
Please note, these mittens are marked on sale for final clearance. All sales are final on this item and not returns will be accepted. Stop yourself from having cold hands with these luxurious sheepskin lined ladies mittens. Take these beautiful mittens along with you in your car, to your kids hockey games or out running errands. Whatever the occasion these women's mitts will look great and keep you warm and cozy. The exterior is a genuine leather in a chic black color. For added style they have a Native Indian braid on the cuff/rim.

These ladies leather mitts have a plush and warm sheepskin liner that you can easily remove for easy washing and care. These ladies winter mittens are hand-crafted by a Canadian company called Laurentian Chief. They are available in ladies sizes Small to X-Large. Enjoy the warmth that genuine and real shearling sheepskin provides with these women's black leather mittens.
| | |
| --- | --- |
| SKU | K231L |
| Material | Real Sheepskin |
| Material | Genuine Leather |
| Manufacturing | Made In Canada by Laurentian Chief |
| Size | Available In Size Small-XLarge |
| Color | Black |
| Lining | Plush Real Shearling Wool Removable Liner |
| Exterior | Genuine Leather |
| Use | Outdoor |
| Accents | Indian Braid Trim |
Genuine sheepskin and leather should fit snugly at first as it will stretch and mold to your hands for a comfortable fit. The length should always feel right. Click here for washing instructions.


| | |
| --- | --- |
| Small / Size 6 | |
| Thumb Length | 2.25" |
| Width Across Hand | 3.5" |
| Length from Tip of Finger to Wrist | 6.75" |
| | |
| Medium / Size 7 | |
| Thumb Length | 2.5" |
| Width Across Hand | 3.5" |
| Length from Tip of Finger to Wrist | 7" |
| | |
| Large / Size 8 | |
| Thumb Length | 2.5" |
| Width Across Hand | 3.75" |
| Length from Tip of Finger to Wrist | 7.25" |
| | |
| X-Large / Size 9 | |
| Thumb Length | 2.75" |
| Width Across Hand | 3.75" |
| Length from Tip of Finger to Wrist | 7.5" |