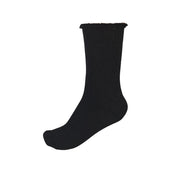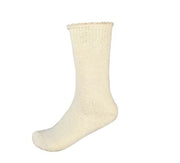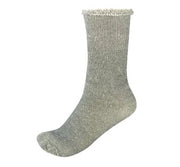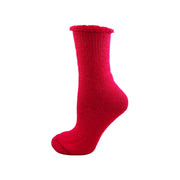 Women's Mohair Socks
These women's mohair socks are made of kid mohair, which is the first hair sheared from the young kid. This particular hair is very fine and soft, the most luxurious and expensive of the mohair grades. The finished socks are knit in a looped sequence for cushioning, and are blended with 25% nylon for stretch. THERMOHAIR socks are especially insulating for those working or sporting in the cold outdoors. They are ideal for women who always have cold feet, indoor or outdoors, or for the outdoor enthusiasts for either sport, play or work. They come in either Grey, Black or Natural Cream in women's sizes Small to Large.
Ladies Small is shoe size 5 to 6, Ladies Medium is shoe size 7 to 9, Ladies Large is shoe size 10 to 12. If your shoe is at the higher end of each size, we recommend going to the next size up if you have wide feet.
| | |
| --- | --- |
| SKU | 02MO |
| Material | 75% mohair / 25% nylon |
| Manufacturing | Thermohair Inc Made In Canada |
| Size | Available In S-L |
| Height | Crew |
| Quantity | 1 Pair |
| Features | Mohair Cuts Down On Perspiration Keeping Feet Dry |
| Color | Grey, Black & Cream |
| Washing | Machine Wash, Hang to Dry |
Thermohair socks are made of 75% kid mohair. This is the most soft and expensive of all the mohair grades. Its micron count is close to cashmere, giving the socks the softness of cashmere, but the strength of mohair. The yarn is made in South Africa from US and South African mohair. This is the last country where there remains a commercially viable population of Angora goats. The yarn is then knit into socks at one of the few remaining mills in Canada. The socks are sized, sorted, labelled, some dyed, and shipped from the home farm.

When you buy a pair of Thermohair socks on the shelf of a store, you have no idea of all the behind the scene factors. Mohair is a world commodity which depends on world weather patterns, world politics and fashion demands. South Africa is now the main and largest producer of mohair in the world. In 2012, Thermohair's celebrated their 20th anniversary and is believed to be the first manufacturer to sell mohair socks on the world market. Those in the hosiery industry thought it would never work and now the manufacturer, at age 62, is passing on her.