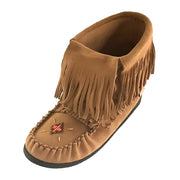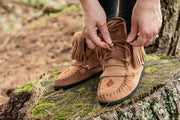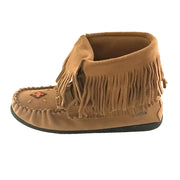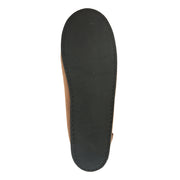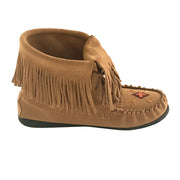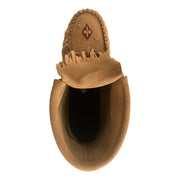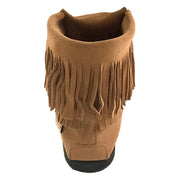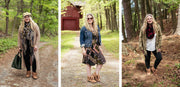 Women's Moka Suede Fringed Moccasin Boots
These women's Inca style moccasin boots are extremely unique and fashionable. Please enjoy our blog article featuring these ladies moccasin boots "On the Fringe". They have authentic Native style moccasin with traditional comfort. These ladies moccasin boots reach slightly above the ankle and are approximately 6" tall from the ground up. What makes them so fashionable is the stylish double fringe. The first fringe goes all the way around the foot-bed and on the vamp, and the second is a long loose, fold over fringed around the top and front flap that can be worn up or down. There are laces that can be used for tightening beneath the front flap.

There is a beautiful Native Indian style hand-beaded design on the vamp of these ankle boots. These ladies real suede leather moccasin boots are handmade from a Canadian company called Laurentian Chief. They come in a natural mocha brown color which looks great with any casual outfit. The leather is extremely soft and pliable yet very durable. They have a durable rubber sole for outdoor use and a padded insole for comfort. They come in sizes 5-10. These ladies real suede leather ankle moccasin boots fit true to size. These moccasin boots do not come in half sizes. If you wear a half size, go down to the next full size. (8 ½ order size 8) When you first put on a pair of moccasin boots, they should fit snugly as the leather will stretch. Length should always feel right when you first put on moccasins (you should never feel like your toe is busting out of the seem).
| | |
| --- | --- |
| SKU | 702093 |
| Material | Genuine Suede Leather |
| Lining | Suede |
| Manufacturing | Made In Canada by Laurentian Chief |
| Sole | Black Rubber Sole |
| Size | Available In Size 5-10 |
| Color | Moka Brown |
| Use | Indoor & Outdoor |
| Accents | Double Fringe |
| Accents | Long Loose Fringe Around Top |
| Accents | Hand-Beaded Design on Vamp |
| Accents | Raw Hide Laces & Hand-Stitched Vamp |