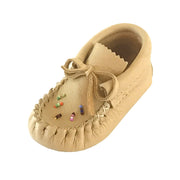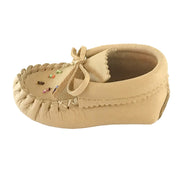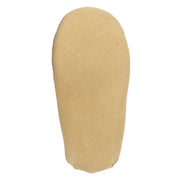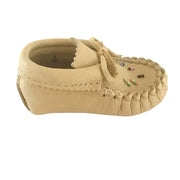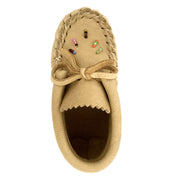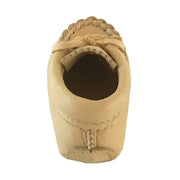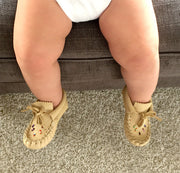 Baby Moose Hide Beaded Moccasins
These adorable baby moccasins are cute and attractive. They are made of real moose hide leather in a natural light tan color and feel extremely soft to the touch, but not at the expense of their durability. What is particularly nice about these infant and toddler moccasins is that they are 100% leather, there are no synthetic padding in the soles and they are not lined with any synthetic materials, the only material against your baby's feet is the soft and comfortable suede which feel amazing against your child's feet, like wearing a second skin. These authentic Native American baby moccasin slippers have several cute and stylish accents including the hand-beaded design on the vamp and the serrated edge on the tongue of the shoe. They have rawhide laces for so you can tighten them to ensure they stay on your baby's feet. These beaded baby moccasin slippers are hand crafted with care by a Native Canadian company called Bastien Industries located on the Huron-Wendat Nation reserve in Quebec Canada. We carry infant and baby sizes 2-6. These moccasin fit a little bit small. You should size up 1 full size, or maybe even 2 sizes. It is better for moccasins to be a little large as infant and toddlers grow so fast.
| | |
| --- | --- |
| SKU | 4337-B |
| Material | Genuine Moosehide Leather |
| Manufacturing | Made In Canada by Bastien Industries |
| Sole | Unlined Soft Sole |
| Size | Available In Baby Size 2-6 |
| Color | Natural Tan |
| Lining | Suede |
| Use | Indoor |
| Vamp | Hand-Stitched |
| Accents | Rawhide Laces |
| Accents | Serrated Tongue |
*Moose is a wild animal, so therefore incurs wounds and scarring during its lifetime. These scars and marks can show up in the leather as what may appear to be imperfections, but in fact are unique to each pair of moccasins. They are part of the animal's story-line. Please enjoy our blog explaining the uniqueness of rich full-grain wild leather "Wild & Free".