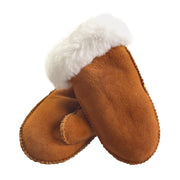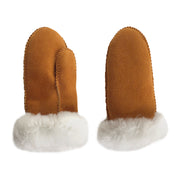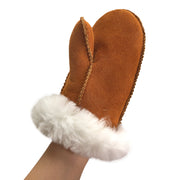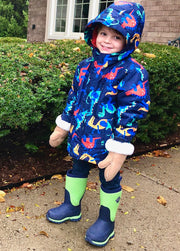 Children's Sheepskin Mittens
Sheepskin is one of the warmest insulators and these children's mittens are sure to keep kids warm and toasty on the coldest of days. They are Canadian handmade from thick and plush genuine sheepskin. The interior is lined with soft and warm shearling sheepskin wool while the exterior is the reversed suede side of natural sheepskin. They come in a Natural Brown color and have a stylish sheepskin cuff for added warmth and fashion. Please note, the shade of can brown vary depending on the pair, as shown in the pictures. They look great on both boys and girls as they come in a neutral color. Mittens are much easier for children to take on and off and are better at keep fingers warmer than gloves, so these are ideal mittens for children during colder months. We carry sizes Small-Large and they fit a size range from 1 to 8 year old children.
| | |
| --- | --- |
| SKU | 1013 |
| Material | Genuine Sheepskin |
| Manufacturing | Made In Canada by Lambskin Specialties |
| Size | Available In Size Small-Large |
| Color | Natural Tan |
| Lining | Plush Real Shearling Wool Insulation |
| Exterior | Genuine Suede Leather |
| Use | Outdoor |
| Accents | Fold Over Sheepskin Cuff |
Genuine sheepskin and suede should fit snugly at first as it will stretch and mold to your hands for a comfortable fit. The length should always feel right. Click here for washing instructions.
| | |
| --- | --- |
| Small - Child Age 1-2 Years Old | |
| Thumb Length | |
| Width Across Hand | |
| Length from Tip of Finger to Wrist | |
| Medium - Child Age 2-5 Years Old | |
| Thumb Length | 2" |
| Width Across Hand | 3" |
| Length from Tip of Finger to Wrist | 4.5" |
| Large - Child Age 6-8 Years Old | |
| Thumb Length | 2.25" |
| Width Across Hand | 3.25" |
| Length from Tip of Finger to Wrist | 5.25" |