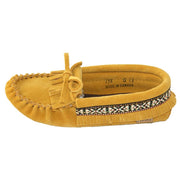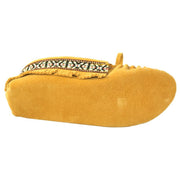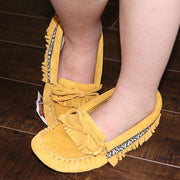 Junior FINAL CLEARANCE Fringed Soft Sole Suede Moccasins (12 Only)
These children's fringed moccasin slippers are super cute and attractive as well as flexible and comfortable. They make perfect indoor house shoes as they provide your child's feet with the best amount of comfort. They are lightweight and are Canadian made from real genuine suede leather in an Indian Tan color. They have a stylish and fashionable Native braid and fringe around the edge as well as a fringe on the vamp. They have rawhide laces for added style or to use if you need to tighten the moccasin slippers. The soles are a soft suede and they have a foam insole inside which give you a cushy padding as well as a super soft feeling on kids' feet. These child moccasin slippers are high quality and affordable and the vamp is double hand-stitched. We carry youth sizes 11-13 and junior 1-3. They are made in Canada by Laurentian Chief. Laurentian Chief offers superb footwear and the quality of their handmade moccasins is next-to-none.
| | |
| --- | --- |
| SKU | 198J |
| Material | Genuine Cowhide Suede Leather |
| Manufacturing | Made In Canada by Laurentian Chief |
| Sole | Single Soft Sole - Foam Insole |
| Size | Available In Size 11-3 |
| Color | Indian Tan |
| Lining | Suede |
| Use | Indoor |
| Vamp | Double Hand-Stitched |
| Accents | Top Indian Braid |
| Accents | Stylish Fringes |
| Accents | Rawhide Laces |
These moccasins fit the same as your child's regular shoe size. If you are in doubt order a size up as children grown so fast it is better if they fit even a bit loose so you can wear them longer.