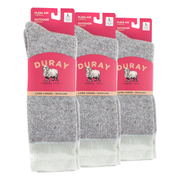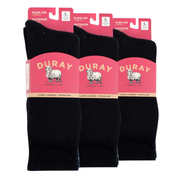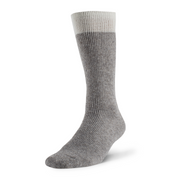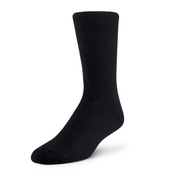 Men's Boreal Thermal Wool Socks (Pack of 3)
Constructed from a robust blend of 60% wool and 40% stretch nylon, these socks are designed to endure the rigors of daily wear while maintaining their shape and comfort. The wool component ensures the socks are inherently durable, naturally resilient to wear and tear, and can withstand the test of time. The nylon blend enhances the longevity by providing flexibility and resistance to repeated washing. Indeed, the quality of these Canadian made wool socks is evident in their lasting durability, making them a valuable addition to any wardrobe. The socks come in packages of 3 only.
Duray socks are Canadian made. All Duray products are pre-washed and pre-shrunk. Duray socks specialize in woolen products. The result: soft, cushy socks with a rustic knit, perfect for harsh winter conditions. Duray adds Nylon to their wool socks for ultimate durability. During the carding process, other fibers are added to the wool, and color blends are created. Next to wool, the most important fiber is undeniably nylon. Duray adds nylon to all of their socks, as it has the specific characteristic of making knits more durable. This ensures that the socks retain their strength and shape throughout their lifetime.

A family-run business and a source of local pride, Duray has been making socks for over 75 years. Their product, the authentic woolen sock, is the result of perfecting over three generations of know-how. Made entirely in Canada, in two factories in Princeville, Québec. Their unionized employees are involved in every aspect of production, from carding raw wool to inspecting the final product by hand. They are committed to quality work, and are the heart of the company's continued success.