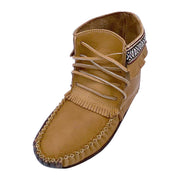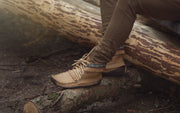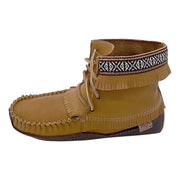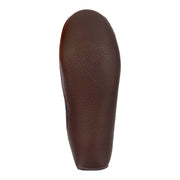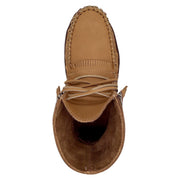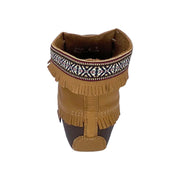 Men's Cork Earthing Ankle Moccasin Boots
These men's ankle moccasin boots offer traditional style and are a perfect way for men to stay connected to the Earth. Read our featured blog about these ankle boots for earthing; "Why Every Hunter Should Wear Moccasins". Since leather is a natural material it allows the electrons to flow through into your body, especially once it mixes with the moisture from your feet and the ground. This allows you to be able to enjoy all the health benefits associated with Earthing. These men's moose hide leather ankle moccasin boots have a double leather soft sole with NO foam insoles or synthetic materials. These men's ankle moccasin boots are handmade from real moose hide leather in either a cork brown or black color and they have three stylish fringes: one around the top, around the foot-bed and on the vamp. Another stylish accent is the Native braid around the top of the boot.

These men's moccasin boots lace up for a comfortable fit and they have a gusseted tongue. The interior of these men's genuine leather moccasin boots is suede which feels nice and soft against your bare skin. They are handmade / sewn from a company in Canada and the vamp is double hand-stitched. We carry men's sizes 7-16 and they fit the same as your regular shoe size. If you wear a half size go down to the nearest full size. (10 ½ order size 10)

Click these links if you need additional soles or laces.
| | |
| --- | --- |
| SKU | BB37597M |
| Material | Genuine Moose Hide Leather |
| Manufacturing | Made In Canada by Laurentian Chief |
| Sole | Double Soft Sole - No Foam Insole |
| Size | Available In Size 7-16 |
| Color | Black |
| Lining | Suede |
| Use | Indoor/Outdoor use (Earthing) |
| Vamp | Double Hand-Stitched |
| Height | Ankle 6" Tall |
| Accents | Raw Hide Laces & Gusseted Tongue |
| Accents | Stylish Fringes & Native Style Braid |
Moose and buffalo are wild animals, therefore they incur wounds and scarring during their lifetime. These scars and marks can show up in the leather as what may appear to be imperfections, but in fact, are unique to each pair of moccasins. They are part of the animal's story-line. Please enjoy our blog explaining the uniqueness of rich full-grain wild leather "Wild & Free".