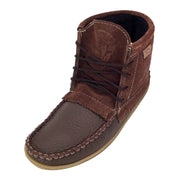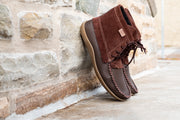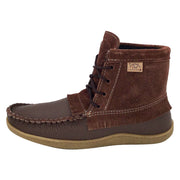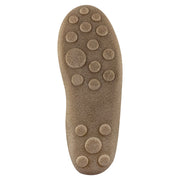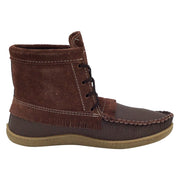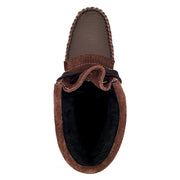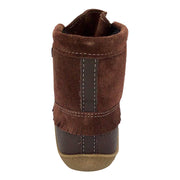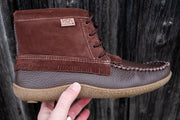 Men's Mohican Suede Leather Ankle Moccasin Boots
These men's moccasin boots combine comfort and style and work great as everyday casual winter or fall boots. Read our blog post about these men's moccasin boots "Best of Both Worlds". They are Canadian made, Native Mohican style ankle moccasin boots. These men's moccasins are crafted from genuine cowhide leather. The upper portion is suede with a fashionable fringe and the lower part of the boot is genuine leather in a Rocky Oil Tan color which is a nice shade of dark brown. They have matching dark brown laces up the front and are ankle height (6.5" tall) perfect for quickly slipping on when you head out the door.
These men's moccasin boots are cozy and perfect for cold days as they are lined with a warm fleece lining. They have a durable Italia Marron rubber sole which has lots of tread, perfect for outdoor use. They are available in men's size 8 to 13. These men's ankle moccasin boots are hand-crafted by a Canadian company called Laurentian Chief, Eugene Cloutier Inc., manufactured in the northern suburbs of Quebec city. *Please note, these boots are not waterproof or intended for deep snow, you will need to treat them with a leather protector. These men's ankle winter moccasin boots fit true to size. They do not come in half sizes. If you wear a half size order up to the nearest full size (10 ½ order size 11) unless you like to wear heavy socks inside. When you first put on a pair of real leather moccasin winter boots, they should fit snugly as the leather and will stretch.
| | |
| --- | --- |
| SKU | 3870120RKM |
| Material | Genuine Leather & Suede |
| Manufacturing | Made In Canada by Laurentian Chief / Eugène Cloutier Inc. |
| Sole | Outdoor Marron Italia Sole |
| Size | Available In Men Size 8-13 |
| Color | Rocky Oil Tan Dark Brown & Choco Brown |
| Lining | Thick Fleece |
| Height | 6.5" from Ground Up |
| Use | Outdoor |
| Vamp | Double Hand-Stitched |
| Accents | Lace Ups |
| Accents | Fringe |