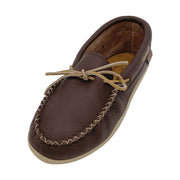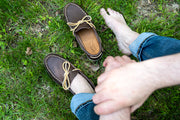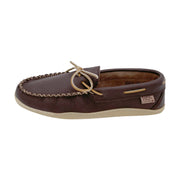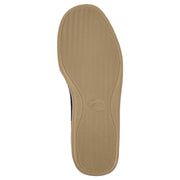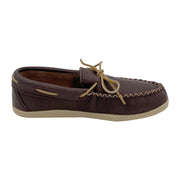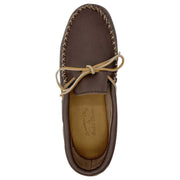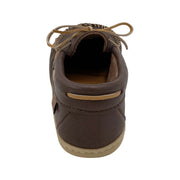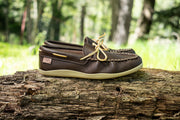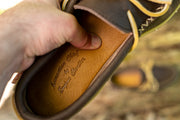 Men's Memory Foam Moosehide Leather Moccasins
Men's moccasins are naturally some of the most comfortable shoes available, but when you add memory foam insoles there is not comparison the comfort you will experience. Please enjoy our blog article explaining the features of these moccasins with additional photos "Comfortable Shoes, Healthy Body". These men's moccasin shoes are like walking on a comfy cushion. They are handmade/sewn from real moose hide leather which is soft and flexible yet extremely durable. These men's authentic Native American moccasin shoes come in a dark fudge brown color which looks great and matches with any casual outfit. They have a durable outdoor rubber sole and rawhide laces for both style and for tightening.

These men's real leather moccasins have suede on the interior and the insole is memory foam wrapped in leather, so wearing these barefoot feels amazing against your skin. We carry men's sizes 8-12. They are Canadian handmade by a Native American company called Eugene Cloutier - Laurentian Chief. These men's moccasin shoes fit true to size. These moccasins do not come in half sizes. If you wear a half size, go down to the next full size. (10 ½ order size 10) When you first put on a pair of moccasins, they should fit snugly as the genuine leather will stretch. Length should always feel right when you first put on moccasins (you should never feel like your toe is busting out of the seem).
| | |
| --- | --- |
| SKU | 41472FDM |
| Material | Genuine Moose Hide & Deer Skin Leather |
| Manufacturing | Made In Canada by Laurentian Chief |
| Sole | Durable Outdoor Rubber Sole |
| Insole | Cushy Memory Foam |
| Size | Available In Size 8-12 |
| Color | Fudge Brown |
| Lining | Suede & Deer Skin |
| Use | Indoor & Outdoor |
| Vamp | Double Hand-Stitched |
| Accents | Raw Hide Laces |
* Moose is a wild animal, so therefore incurs wounds and scarring during its lifetime. These scars and marks can show up in the leather as what may appear to be imperfections, but in fact are unique to each pair of moccasins. They are part of the animal's story-line. Please enjoy our blog explaining the uniqueness of rich full-grain wild leather "Wild & Free".