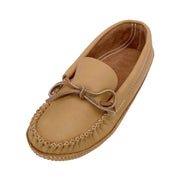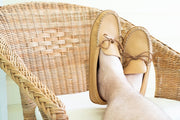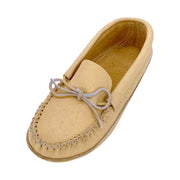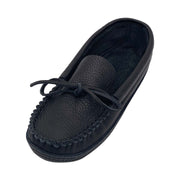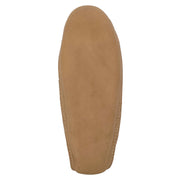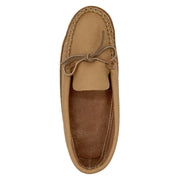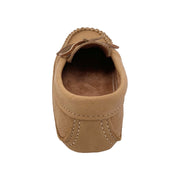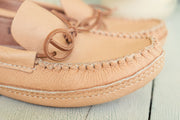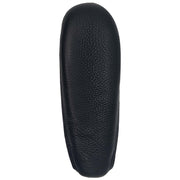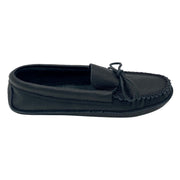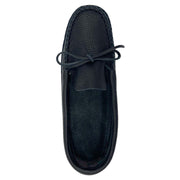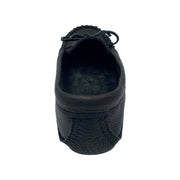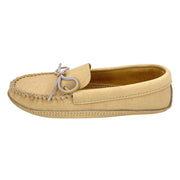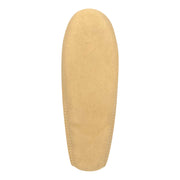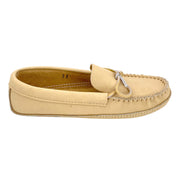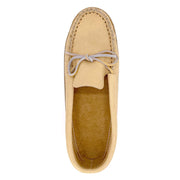 Men's Soft Sole Moose Hide Leather Moccasins
These moccasins are extremely durable and well-made. They are hand-crafted by Native American company from Canada. They are handmade out of genuine wild moose hide leather which is very durable in a natural tan or maple tan color. The black colored moccasins are crafted from cow hide leather. They feature a double soft leather sole with foam in-between, well padded for perfect comfort. The outside is soft leather and the inside is suede. The vamp is double hand-stitched and they feature rawhide leather laces so you can tighten your moccasins.
These authentic men's moccasins fit true to size. Order the same as your shoe size. For half sizes go down to the next full size. (10 1/2 order size 10) When you first put on a pair of moccasins, they should fit snuggly as the genuine leather will stretch.
| | |
| --- | --- |
| SKU | B489 (Maple) | 489 (Tan) | 489/8 (Black) |
| Material | Genuine Cow or Moose Hide Leather |
| Manufacturing | Made In Canada by Bastien Industries |
| Sole | Double Soft Sole - Foam In-Between |
| Size | Available In Size 7-15 |
| Color | Maple Tan, Natural Tan & Black |
| Lining | Suede |
| Use | Indoor |
| Vamp | Double Hand-Stitched |
| Accents | Rawhide Laces |
*Moose is a wild animal, so therefore incurs wounds and scarring during its lifetime. These scars and marks can show up in the leather as what may appear to be imperfections, but in fact are unique to each pair of moccasins. They are part of the animal's story-line. Please enjoy our blog explaining the uniqueness of rich full-grain wild leather "Wild & Free".