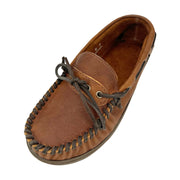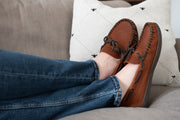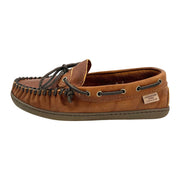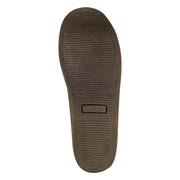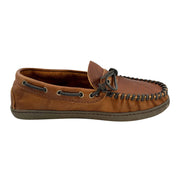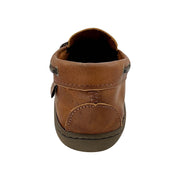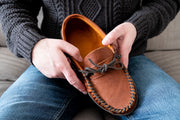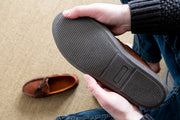 Men's Hunter Sole Wide Width Leather Moccasin Shoes
These genuine leather moccasin shoes are the best option for men with extra wide feet approximately EEE wide. Please enjoy our blog post featuring these wide fitting moccasins "Wide Stride". Not only are they designed with a wide foot bed, they are hand-crafted out of genuine leather in a nice peanut brown color. Real leather stretches and molds to your feet for ultimate comfort. These men's outdoor moccasins have a hunter rubber sole with a foam padding in-between the leather making them extra comfortable to walk around in and extremely durable. Please note the oversize 14, 15 and 16 may have the light rubber sole.
The men's Canadian made moccasins can be worn indoors as a house shoe or outdoors as a casual driving or boat shoe style moccasin. The interior is lined with suede which feels great against your bare skin.

These high-quality, traditional style men's moccasin shoes are handmade by a Canadian company called Alfred Cloutier. This style comes from their Barbo Native American style Wakonsun brand. Wakonsun footwear offers casual comfort and appealing style.
They are available in men's sizes 7-13 and size 14, 15 and 16 are available for an additional $10. The vamp is hand-stitched with a unique thick and durable piece of rawhide and they have a thick rawhide lace which goes around the back for tightening. These men's extra wide width moccasin shoes fit true to size.
These moccasins do not come in half sizes. If you wear a half size, go up to the next full size (9 ½ order size 10). If you have any questions about sizing, email us your foot measurements and we can help. When you first put on a pair of moccasins, they should fit snugly as the leather will stretch and mold to your feet. The length should always feel right when you first put the moccasins on. (your toe should never feel like it is busting out of the seam)
| | |
| --- | --- |
| SKU | 1762W |
| Material | Genuine Cowhide Leather |
| Manufacturing | Made In Canada by Alfred Cloutier |
| Sole | Hunter Rubber Sole - Foam In-Between |
| Size | Available In Size 7-16 |
| Color | Peanut Brown |
| Lining | Suede |
| Use | Indoor & Outdoor |
| Vamp | Hand-Stitched Thick Raw Hide |
| Accents | Rawhide Laces |