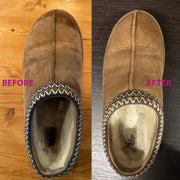 Sheepskin Care Kit
Volant James All Seasons® Waterproof Protector provides an advanced water barrier that repels water, dirt and stains without darkening or discoloring. Excellent for all types of leather footwear and accessories. Including all colors of genuine or imitation leather, suede, nubuck, and fabric. Ideal for: footwear, handbags, jackets, pants, belts, gloves, luggage, outdoor patio furniture, tents, tarps, outdoor gear, canvas boat covers, and much more.
*Not for: patent, reptile, metallic leather or vinyl goods.
To apply the Volant James All Seasons® Waterproof Protector, item must be clean and dry. Spot test an inconspicuous area for color fastness. Shake the bottle well and hold bottle upright, 15-20 cm away and spray entire article in a circular motion. Do not saturate and allow to dry. Treat again regularly for maximum effectiveness.