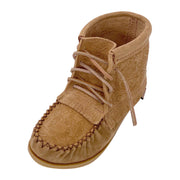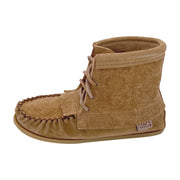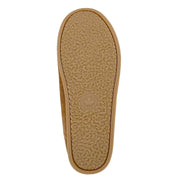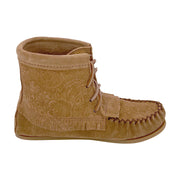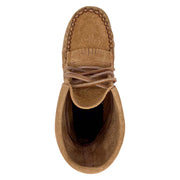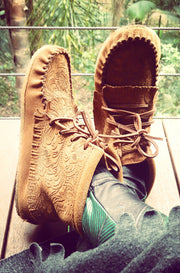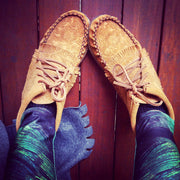 Women's Floral Embossed Suede Moccasin Boots
These women's ankle moccasin boots are unique and beautiful. Read our blog post about these moccasins "April Showers Bring May Flowers". They are Canadian handmade from genuine suede leather in a neutral dark tan color which will match with any casual outfit. The real suede has a fashionable floral embossed pattern on the vamp and sides of the ankle moccasin boots. They also have a subtle and stylish fringe around the foot-bed and on the vamp. These ladies traditional style moccasin boots has a durable outdoor crepe sole so you can wear them on any adventure. The interior is lined with suede so they feel great against your skin if you decide to wear them without socks.

These women's moccasin boots are nice and easy to slip on and off and they have rawhide laces that go all the way up. The suede is durable yet nice a flexible and soft so your feet will feel amazing in these boots. We recommend you treat the suede with a leather protector to make it water-resistant. There is a foam insole for added comfort. They are handmade in Canada by Laurentian Chief which offer superb moccasins which you can see in the high-quality details such as the double hand-stitched vamp. These women's crepe sole moccasin boots are ankle high and reach approximately 6" tall from the ground up. We carry ladies sizes 5-10. These ladies real suede leather ankle moccasin boots fit true to size. These moccasin boots do not come in half sizes. If you wear a half size, go down to the next full size. (8 ½ order size 8) When you first put on a pair of moccasin boots, they should fit snuggly as the leather will stretch. Length should always feel right when you first put on moccasins (you should never feel like your toe is busting out of the seem).
| | |
| --- | --- |
| SKU | 2920227 |
| Material | Genuine Suede Leather |
| Lining | Suede |
| Interior | Padded Insole |
| Manufacturing | Made In Canada by Laurentian Chief |
| Sole | Cream Crepe Sole |
| Size | Available In Size 5-10 |
| Color | Dark Tan |
| Use | Indoor & Outdoor |
| Accents | Floral Embossed Boot Shaft & Vamp |
| Accents | Fringe Around Footbed & Vamp |
| Accents | Raw Hide Laces & Hand-Stitched Vamp |