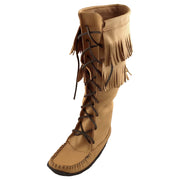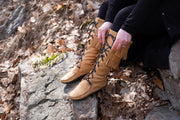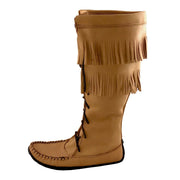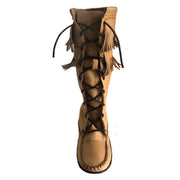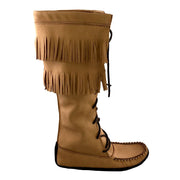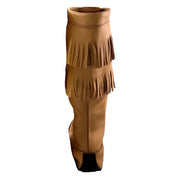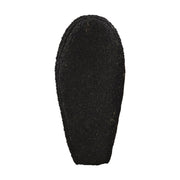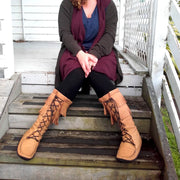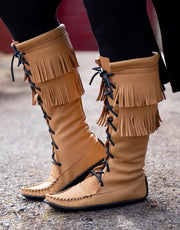 Women's 15" Moose Hide Fringed Mukluks Boots
For out of stock boots, they may take 2-4 weeks to arrive as they are special order. These women's aboriginal style genuine leather Mukluks boots bring you the comfort of moccasins mixed with fashionable look. Please enjoy our blog featuring these knee-high moccasin The Real Deal". They reach slightly below the knee and are 15" tall and lace-up with rawhide laces. These Native Indian ladies fringed outdoor mukluks are handmade from genuine moose hide leather which is both durable and supple and they come in natural chestnut color which will go well with most casual outfits. They are unlined with a suede interior which feels nice and soft against your skin. The foot-bed has a comfortable insole between the leather and the sole making them enjoyable to walk in.

These women's moccasin boots have a black crepe sole making them ideal for outdoor use. We carry women's size 5-10. These traditional women's moccasin mukluks are hand-crafted by a Native American Company called Bastien Industries. They are a family owned business offering authentic, 100% Canadian Huron-Wendat First Nation products, located North of Quebec City, in Wendake. These authentic Native American women's knee-high mukluk moccasins fit true to size. These moccasins do not come in half sizes. If you wear a half size, go down to the next full size (8 ½ order size 8).
| | |
| --- | --- |
| SKU | B445 |
| Material | Moose Hide Leather |
| Manufacturing | Made In Canada by Bastien Industries |
| Sole | Outdoor Crepe/Gum Sole |
| Size | Available In Ladies Size 5-10 |
| Color | Maple Tan |
| Lining | Suede |
| Use | Outdoor |
| Height | 15" Knee-High |
| Vamp | Double Hand-Stitched |
| Accents | Double Fringes |
| Accents | Rawhide Laces |
*Moose is a wild animal, so therefore incurs wounds and scarring during its lifetime. These scars and marks can show up in the leather as what may appear to be imperfections, but in fact are unique to each pair of moccasins. They are part of the animal's story-line. Please enjoy our blog explaining the uniqueness of rich full-grain wild leather "Wild & Free".