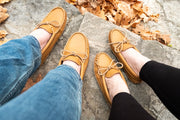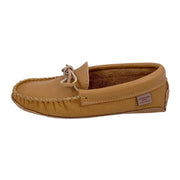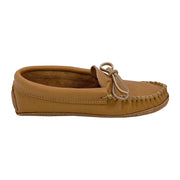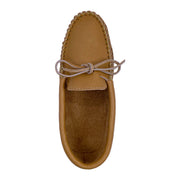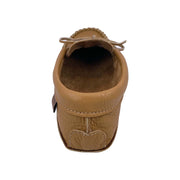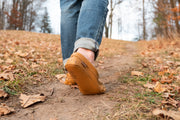 Women's Moose Hide Leather Earthing Moccasins
These women's moccasins are great for Earthing. Please enjoy our blog article featuring these moccasins "Reconnect, Restore, Revitalize". They are Canadian handmade from 100% genuine moose hide leather in a cork tan color, without any foam or synthetic insoles making them a great option for grounding and connecting with the Earth's healing energies. You can also use them indoors if you enjoy a barefoot feeling, as these moccasins will feel like a second skin. Please note, if you intend to use them outdoors, they should be worn on soft natural surfaces such as grass and dirt as the soles are not guaranteed to last if you wear them on concrete or asphalt. These women's moccasins have soft leather soles and the Laurentian Chief logo of an Indian Chief head embossed on the soles. Leather becomes a conductive material when the moisture from the ground mixes with the moisture from your feet. These women's moccasin shoes for earthing are made in Canada by a company that uses only the best quality materials and has superb craftsmanship. They are Laurentian Chief moccasins made by Eugene Cloutier Inc. located in the northern suburbs of Quebec city. We carry women's full sizes 4-10. These ladies moccasins are easy to slip on and off and fit large. Order one full size down (size 9 order size 8). For half sizes, go down; (8½ order size 7). They have a medium to wide width, so they might not fit well if you have narrow feet.
| | |
| --- | --- |
| SKU | BB3107L |
| Material | Genuine Moose Hide Leather |
| Manufacturing | Made In Canada by Laurentian Chief |
| Sole | Double Soft Sole - No Foam Insole |
| Size | Available In Size 4-10 |
| Color | Cork Brown |
| Lining | Suede |
| Use | Indoor |
| Vamp | Double Hand-Stitched |
| Accents | Raw Hide Laces |
*Moose is a wild animal, so therefore incurs wounds and scarring during its lifetime. These scars and marks can show up in the leather as what may appear to be imperfections, but in fact are unique to each pair of moccasins. They are part of the animal's story line. They are part of the animal's story-line. Please enjoy our blog explaining the uniqueness of rich full-grain wild leather "Wild & Free".