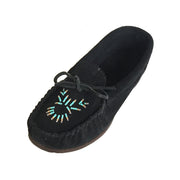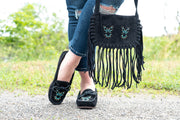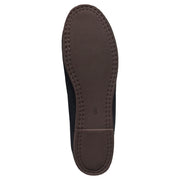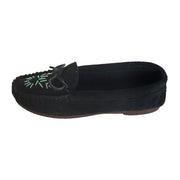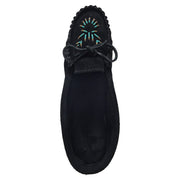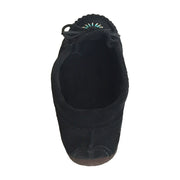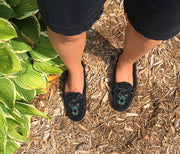 Women's Rubber Sole Black Beaded Moccasins
These women's authentic moccasin shoes are cute and dainty, offering the best combination of comfort and style. Please enjoy our blog article featuring these moccasins "Meet Your Match". They are the perfect stylish casual shoes for slipping on and running out the door. They have a durable rubber sole with a slight heel that can be used for both indoor and outdoor use. These real suede ladies traditional moccasin shoes come in a chic black color that matches with any outfit. They have a turquoise hand-beaded design on the vamp which is beautifully contrasted against the black suede giving them a unique look. The suede on these women's Native American moccasin shoes is both durable and soft.

These women's real suede leather black moccasin shoes have a cushy foam insole for the best comfort. These women's moccasins are authentic and handmade by Huron Native American Indians from Canada. These are quality moccasins and every detail is done with perfection. You can see this with the hand-sewn vamp that is double stitched. Other features include the rawhide laces and the serrated edge on the tongue of the moccasin shoes. We carry ladies sizes 5-10. *Regular to narrow fit. These ladies moccasin slippers fit true to size. They fit on the narrow size. We do NOT recommend them for women with wide feet. These moccasins do not come in half sizes. If you wear a half size, go down to the next full size. (8 ½ order size 8) When you first put on a pair of moccasins, they should fit snugly as the genuine leather will stretch. Length should always feel right when you first put on moccasins (you should never feel like your toe is busting out of the seem).
| | |
| --- | --- |
| SKU | X22836 |
| Material | Genuine Cowhide Suede |
| Manufacturing | Made In Canada by Bastien Industries |
| Sole | Rubber Sole with Heel |
| Size | Available In Size 5-10 |
| Color | Black |
| Lining | Suede |
| Interior | Padded Insole |
| Use | Indoor & Outdoor |
| Vamp | Double Hand-Stitched |
| Accents | Raw Hide Laces |
| Accents | Hand-beaded Native Design |