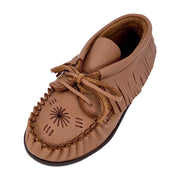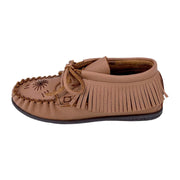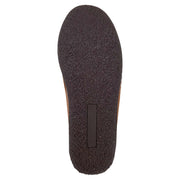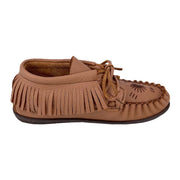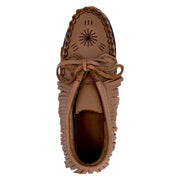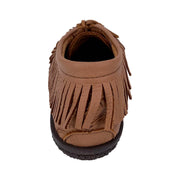 Women's Rubber Sole Fringe Ankle Moccasin Shoes
These women's moccasin shoes are extremely comfortable and fashionable. They are crafted from real moose hide leather in a maple brown color. Moose hide is one of the softest and most comfortable leathers, yet it is extremely durable. These women's Native American style moccasin shoes have a stylish fringe around the opening of the shoe and they reach ankle height. They have raw hide leather laces that go up the moccasin to tighten them for a comfortable fit. Part of what makes these rubber sole outdoor ladies moccasin shoes stand out is the unique hand-embroidered design on the vamp. They have a padded insole for extra cushioning and the lining is genuine suede which feels nice and soft against you skin.
These women's moccasin shoes have a unique rubber sole that features a lot of tread and texture. The sole has a little bit of a heel built into the soles (approximately 0.25") These women's ankle fringed moccasin shoes are high quality moccasin shoes crafted with attention to detail and with care. We carry ladies sizes 5-10 in this style of moccasin. They are super easy to slip on and off. They are hand-crafted by a Canadian Company called Alfred Cloutier manufactured in the northern suburbs of Quebec City. You won't be disappointed with these quality, Native Indian fashioned women's ankle moccasin shoes. These Native Aboriginal style women's moccasin shoes fit true to size. Order the same as your regular shoe size. They do not come in half sizes. For half sizes go up to the nearest full size. (8 ½ order size 9) Genuine leather should fit snugly at first as the leather will stretch and mold to your foot for a comfortable fit. The length should always feel right when you first put the moccasins on. (your toe should never feel like it is bursting out of the seam)
| | |
| --- | --- |
| SKU | 2074-05L |
| Material | Genuine Moose Hide Leather |
| Manufacturing | Made In Canada by Alfred Cloutier |
| Sole | Rubber Camping Sole |
| Size | Available In Size 5-10 |
| Color | Maple Brown |
| Lining | Suede |
| Use | Outdoor |
| Vamp | Double Hand-Stitched |
| Vamp | Hand-Embroidered Design |
| Accents | Ankle High with Fold Over Fringe |
| Accents | Rawhide Laces |
*Moose is a wild animal, so therefore incurs wounds and scarring during its lifetime. These scars and marks can show up in the leather as what may appear to be imperfections, but in fact are unique to each pair of moccasins. They are part of the animal's story-line. They are part of the animal's story-line. Please enjoy our blog explaining the uniqueness of rich full-grain wild leather "Wild & Free".