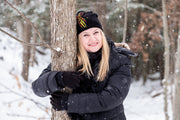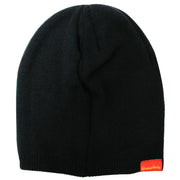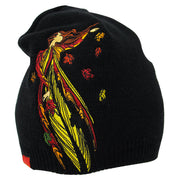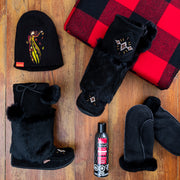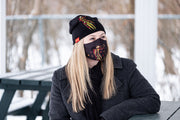 Maxine Noel Embroidered Knitted Hat
This unique and stylish hat features the artwork of Sioux Native Artist Maxine Noel. Embroidered on the side of this black beanie is a Native Leaf Dancer. "Mother Earth turns, and with a gentle wave of her hand another season passes." - Maxine Noel

Read our blog post about this hat "Warm, Safe & Well". *Enjoy 15% off at checkout when you combine the Leaf Dancer hat and mask. This hat is made of 100% acrylic and comes in one adult size for both men and women. It is large enough to fit over your ears and will keep you warm and comfortable during the winter. Enjoy this custom embroidered knit hat in a chic black color.
| | |
| --- | --- |
| SKU | 9526 |
| Manufacturing | Designed In Canada by Maxine Noel |
| Size | One Size Fits All |
| Color | Black |
| Material | 100% Acrylic |
| Features | Leaf Dancer |
Ioyan Mani - "to walk beyond" - is Maxine's Sioux name that reveals her gift. Maxine is Oglala Sioux, born on the Birdtail Reservation in Manitoba. The eldest of eleven children, she learned to draw among a loving family on a quiet reserve. In residential school she experienced the struggles of submersion of the native spirituality and culture, which brought her strength and enrichment. Maxine was appointed in 2019 as a member of the Order of Canada for her work as a visual artist and for encouraging and promoting creative expression in Indigenous communities.

A self-taught artist, Maxine is skilled in many media. She seeks through the use of fluid images, flowing lines and subtle colours, to present essential characteristics of the Native people: their sensibilities, generosity and loving nature. Maxine has received honours and accolades for her work with Native cultures, and she speaks around the country on art and on social issues, assisting in bridging the gap between Native and non-Native, young and old.

Maxine was a recipient of the Order of Canada in 2019 for her notable achievements.