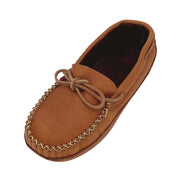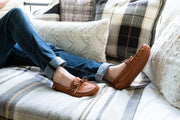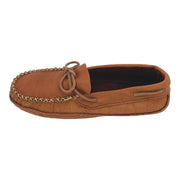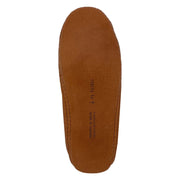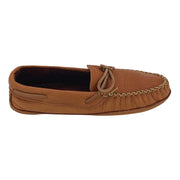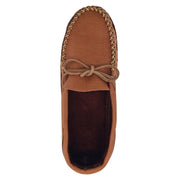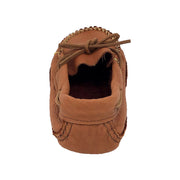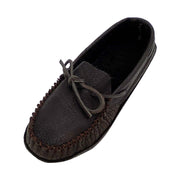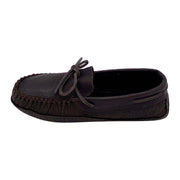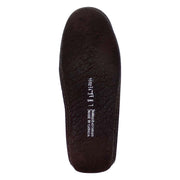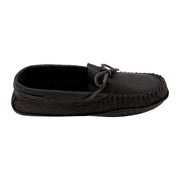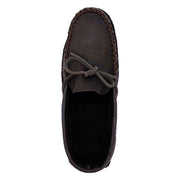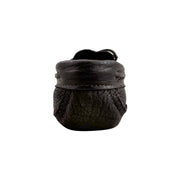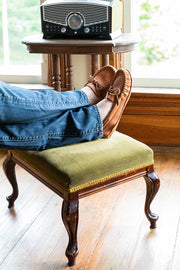 Men's Soft Sole Wide Width Buffalo Moccasins
These men's moccasins slippers are made specifically for men with extra wide feet. Read our blog post about these moccasins "If the Shoe Fits...". Most of the time moccasins are not designed for wide width feet in mind, however these men's Native American style moccasins have an extra wide foot bed giving your feet and toes lots of wiggle room. Another great feature, is they are handmade/sewn from genuine buffalo leather which will stretch and mold to your feet giving you even more room once you break them in. These men's traditional style moccasins slippers come in a Tobacco brown color and are perfect for indoor use as they have a durable soft sole with a foam insole between two layers of leather.
The interior of these indoor moccasin house shoes is suede which will feel great against your feet if you choose to wear them barefoot. They have rawhide laces for tightening, are easy to slip on and off, and the vamp is double hand-stitched. Not only do they come with a wide foot bed, they also come in extra large sizes from men's size 7 to 15. These men's moccasin slippers are handmade in Canada by a company called Alfred Cloutier Ltd. manufactured in Saint-Emile, in the northern suburbs of Quebec city. These men's moccasin slippers fit true to size. These moccasins do not come in half sizes. If you wear a half size, go down to the next full size (9 ½ order size 9). When you first put on a pair of moccasins, they should fit snugly as the genuine leather will stretch. Length should always feel right when you first put on moccasins (you should never feel like your toe is busting out of the seem).
| | |
| --- | --- |
| SKU | BB10025 |
| Material | Genuine Buffalo Hide Leather |
| Manufacturing | Made In Canada by Alfred Cloutier |
| Sole | Double Soft Sole - Foam In-Between |
| Size | Available In Size 7-15 |
| Color | Tobacco Brown |
| Lining | Suede |
| Use | Indoor |
| Vamp | Double Hand-Stitched |
| Accents | Rawhide Laces |